We offer both tandem jumps, educations for taking skydive licenses, shows and regular jumps for us experienced parachutists.
We are Skåne (southern Swedens) parachute center in Eslöv and we jump from one of Swedens most modern jump airplanes (Cessna 208B Grand Caravan) and hence we can jump with bigger groups of people in one go. We are using the latest modern and safest skydiving equipment in the business. Our professional skydiving instructors have done several thousands of jumps. Best of all we are centrally located in Skåne with an amazing view over the entire Öresund (sea) during our climb up to jumping altitude and during the free fall back down to the ground.
Skydive SYD – a dropzone close to you who lives in i Malmö, Lund, Helsingborg and Copenhagen.
Tandem jump Experience the freedom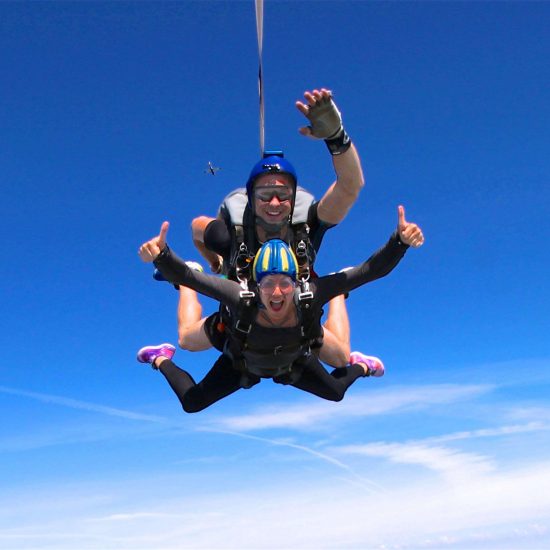 Here you can buy your lifetime experience!
At Skydive SYD we jump every day when the weather is with us. We have large capacity and can take small to large groups of people.
We welcome spontaneity and are usually able to book you in at short notice. When ordering, state if you would like a specific jump day.
In order to be able to plan and perform the jump in the best way, we would like to know the jumper's weight and height. If you do not know exactly, it is fine to leave an approximate estimate.
If you choose to include film in your order, a videographer will accompany you during the tandem jump to document the entire experience.
If you have any questions, contact tandem chief Johnny Olsson here.
Experience the freedom with us